A hotbed of Canadianism in the East Bay
The Moose talks with Elliott Smith, Program Manager of the Canadian Studies Program at UC Berkeley, about immigration, thought-provoking research and introducing undergrads to Joe Clark.
Read the original post on Medium.
Tell us about how there came to be an outpost of Canadianism in the Bay Area.
It started with the Canadian involvement in the Iran hostage crisis in 1979, when several hostages were able to escape because of false passports supplied to them by the Canadian Embassy. Thomas Barnes, a professor of history and law at Berkeley who had summered in Nova Scotia as a child, wrote a letter to the Canadian Embassy thanking Canada for their friendship.
That letter ended up at the Consulate in San Francisco, where academic officer Alan Unger encouraged the creation of a program focused on Canada, with funding and guidance from the Canadian government. Alan is now on the board of the program, and the director holds the title of The Thomas Garden Barnes Chair.
The Barnes Chair today is held by Dr. Irene Bloemraad.
Yes, Irene is a professor of sociology and world-renowned expert on immigration policy, in particular how the US and Canada welcome immigrants. She is herself an immigrant: she was born in Europe and grew up in Canada, and is a McGill graduate.
Professor Irene Bloemraad (second from right) with former Consul General Cassie Doyle and two Mounties. Read more about Dr Bloemraad here, and listen to her take on the impact of the October 2015 election in the Bay Area on KQED's Forum.
What are the main components and activities of the program?
Essentially, we're an intellectual hub in the Bay Area for research and intellectual thought on Canada.
The program itself supports research at the graduate level and above focusing primarily or comparatively on Canada. We bring in visiting scholars who would benefit being at Berkeley, through the Sproul and Fulbright Programs, and we engage the broader Canadian Studies community around North America and internationally through conferences.
We're also here for faculty and students at Berkeley who may want information on Canada or to integrate Canadian content into their classes or research, and we've had a recent revival of CS-EH (the Canadian Students Association) this semester for undergrads.
Canadian Studies Program founder Thomas G. Barnes (left), with Prof. Emeritus Nelson Graburn. Read more about the prolific life and career Thomas Barnes here. He used to teach his students how to properly furl an umbrella, among other talents.
How about public events?
The core of the program is a monthly colloquium series which is open to anyone who is interested in attending. These are typically attended by students, academics and community members. We thrive on and love the participation of all Bay Area Canadians and friends of Canada!
Find out more about the monthly colloquium series and other special events here.
You also hosted a pretty off-the-hook election party with signs saying that anyone born after Joe Clark was PM had to show ID.
Yes! We partnered with the Consulate and Digital Moose Lounge and had over 100 people watching the returns in English and French. There was poutine from the Smoke's Poutinerie in Berkeley and the atmosphere was fantastic. It was mentioned in the Globe & Mail the next day. I always think it's a sign you've thrown a good party when it ends up in the national newspaper!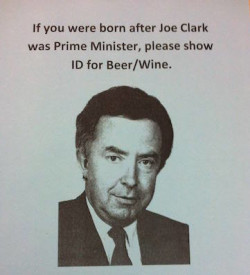 Absolutely! Do you have a Canadian connection yourself?
I'm a fan of Canada. I grew up in Seattle and my family has had a cabin on the Canadian border since 1952, so I was always back and forth and grew up knowing many Canadians. I have a BA in Canadian-American Studies and History and an MA in Canada-US Environmental History from Western Washington University, and before coming to Berkeley I worked on issues on the Salish Sea [between British Columbia and Washington State].
What do you think is special about the Canadian community here in this area?
I've been astounded by the level of enthusiasm for all things Canadian here. Having spent the last 12 years in a border town where Canada is an easy sell, I was worried coming here that nobody cared about Canada, but the community is vibrant and strong and energetic.
What's the best way to get involved with the Canadian Studies community?
There are a few ways:
Follow us on social media @BerkeleyCanada
Visit our website and join our mailing list
Come to our free monthly colloquia and events!