Celebrating Small Businesses in our Community this Canada Day
#ShopSmallBayArea
Hi! This is Erika.
And, hey, this is Griselda.
If you've been to any DML Canada Day event, you might wonder where we are heading with our headline. But you'll see. It makes perfect sense!
Within our connected Canadian community, we know of small businesses and other nonprofit organizations that are being affected by the pandemic and its economic impact.
So, for the first time in DML's 20-year history, as we take Canada Day celebrations online, we hope to lift up local, Canadian-owned and Canadian-affiliated, small businesses.
During DML's Canada Week (June 24 - July 1, 2020), we have teamed up with amazing sponsors, and partners, to celebrate our Canadian culture together, each day.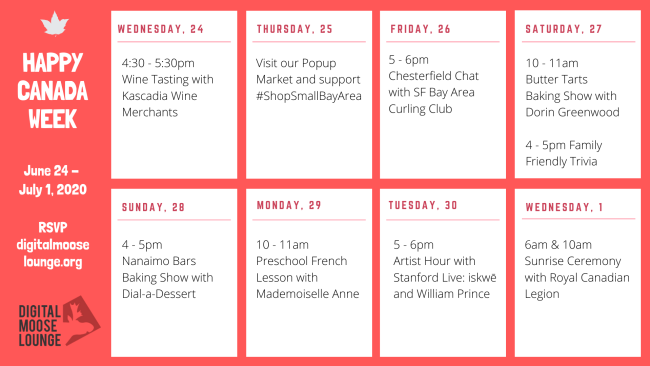 Every Thursday, we'll send out an update, and we'll share each event on Facebook. Here is a sneak peak at what you, your family and friends can enjoy together…
Most of these activities will offer an opportunity for you to make a donation directly to the artist or small business. We ask that you support financially with what you can to make a difference. Thank you in advance for your generousity.
It's been a tough year, and we know that many of us yearn to be able to travel back to Canada or be with others with shared values. With Canada Day around the corner, let's remember what it means to be a Canadian. We can come out of this year stronger by helping each other be in a better place.
Griselda Zhou
Erika Wah
The Digital Moose Lounge Co-Chairs
2018 * 2019 * 2020
#CanadayDayintheBay #ShopSmallBayArea
#CanadaDayUSA #LoveFromCanada #VirtualCanadaDay
Thank you, sponsors!