Five places to get your Canadian food (and drink) fixes in the Bay Area
Suggestions from the Moose to satisfy your cravings for the comforts of home.
Read the original post on Medium.
Sometimes you get sad with the baked circle that's holding up your cream cheese. Sometimes you want a squeaky curd. Sometimes you just get tired of your suitcase rattling from the 18 packets of Smarties you brought back from Canada for your friends.
We can help.
Poutine
There's just something about poutine that's easy to attempt, but hard to get juuuust right. The fries have to have the right level of crispiness. The curds need to be, well, curds. And squeaky. And the gravy needs to be rich and hearty. It's a challenge to find a neighbourhood casse-croûte in the Bay Area, and the locals just don't seem to understand.
Fortunately, Canadian-owned Smoke's Poutinerie has an outpost in Berkeley, at 2518 Durant Ave, a block away from the UC Berkeley Campus. We heard squeals of delight when Smoke's was featured at the UC Berkeley Canadian Studies election party in October. Actually, we may have been the ones squealing, for people who get us and our dish.
Smoke's has all kinds of varieties, including ones with lots of bacon, pirogies, and veggies. And if you're shouting "Legumes?! Non!" right now, rest assured they have the standard version for purists too.
Canadian Craft Beer
Very few Canadian craft beers seem to have made the leap over the border. You can find the larger brands, like Moosehead and Molson, at BevMo. And we've spotted quite a few places that carry Unibroue's Fin du Monde and Maudite (unsurprising, since the brand is owned by global conglomerate Sapporo).
For even craftier brews, check out 2x4 Brewing & Imports in San Jose, which imports to thirty US states (including California) from Parallel 49 Brewing in Vancouver, and Howe Sound Brewing in Squamish, among others.
We had the pleasure of tasting a series of these at our annual Canada Day picnic a few years ago and couldn't have been hoppier to have them available to us in California. (See what we did there?)
Coffee Crisp (and other candy bars)
It's a fact: the chocolate here just isn't the same. With different requirements for the ratio of sugar to cream/milk content, Canadian chocolate is actually made differently. Not to mention how difficult it can be to find some homegrown favourites, like Smarties (the real kind), Aero, and Coffee Crisp.
The need for a Coffee Crisp in the US is real, and can be so pressing that one enterprising expat in Milwaukee even spent six years petitioning Nestlé to sell them in all US cities (a battle he ended up winning).
But outside of Milwaukee, it can still be tricky finding the real Canadian goods. Enter Powell's Sweet Shoppes. This is a chain of candy emporia up and down the state, and we have it on good authority that the Lafayette location stocks some Canadian must-haves, including Coffee Crisp.
Montreal-style bagels
The Great Bagel Debate rages across this nation, but Canadians know the really goof stuff is from Montreal. Sweeter and denser than its American cousin, and boiled in honey water before its journey to baked perfection, the Montreal bagel is a thing to behold.
It's also rarely spotted this far from its Quebec roots. Fortunately, we have Beauty's Bagel Shop on Telegraph Ave in Oakland. Adopting the Montreal style (they have a picture of St. Viateur Bagel on their website), and with a wood-fired oven, these bagels are the real deal.
Tim Hortons
(You didn't think we'd have a list of Canadian food and drink without Tim Hortons, did you?)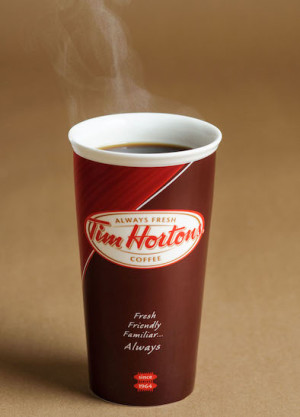 Yes, you can get a Timmy's in the Bay Area. It's not the full cafe experience, with no facilities for making actual food…but next time you're craving a highly-caffeinated, lightly-roasted jolt to the system, swing by Sharks Ice, the San Jose Sharks' practice facilities, in San Jose, Fremont, or Oakland (which is also known as the Oakland Ice Center).
And while you're there, head up to Stanley's Sports Bar, which overlooks the ice and serves some Canadian beers on tap.
---
Have you spotted any bags of ketchup chips near you lately? Scouted out the locale of some authentic butter tarts or nanaimo bars? Have other suggestions for must-have Canadian items? Let us know in the comments!