"I miss my Mom's cooking": Catching up with…Frances Chung
By Anne Gregor
Read the original post on Medium.
On her background and how she came to the Bay Area:
I was born in Vancouver. I started ballet and piano studies at the age of five at a community centre near my house. While in high school I attended Magee Secondary School and studied at Vancouver's Goh Ballet Academy. I combined academic studies with an arts program concentrating on ballet.
I started auditioning for a position with a ballet company when I was 17. San Francisco was one of my top choices because I wanted to stay on the west coast. I ended up here in the Bay Area and I never left. I started as a member of the corps de ballet, then was promoted to soloist and in 2009 to principal dancer.
On Canadians at the ballet and her rigourous schedule:
One-third of the SF Ballet's company comes from abroad. There are two to three Canadians at any given time. Right now Ben Freemantle, also from Vancouver, is here. He wears his Canadian t-shirt every so often.
During the season there is rehearsal in the first week for the current program and in the second week we start preparing for the next program. We start class at 10 in the morning with a warm-up. The exercises are the same every day to get our joints warm. After rehearsal we have physical therapy or a rest. We start preparing for the evening show at 5:30 — makeup and hair. Warm-up again. The show is generally 2.5 hours long. Then I go home, have dinner and go to bed.
Our contract is about 42 weeks but sometimes longer. I work 6 days a week during the January to May season. In the off-season, we go on tour. This year we are going to Iceland. I used to go home but, more and more, I accept guest appearances instead.
On the opportunities available in the United States:
The National Ballet was definitely on my list, but I would say there is a lot more opportunity for ballet in the States than in Canada, both in funding and audience interest. I have tested the waters to put on a gala in Vancouver in partnership with a fellow dancer, Heather Ogden from the National Ballet. We want to invite Vancouver dancers to come back to do a one-night performance. We want to perform in front of the people who have trained, but fund-raising is difficult.
On her favourite haunts in the Bay Area:
I live in San Francisco, a 20-minute drive from work at the War Memorial and San Francisco Ballet Studios in the Civic Center area of the city. Two years ago I married my boyfriend of 5 years, a San Franciscan. He comes to every show.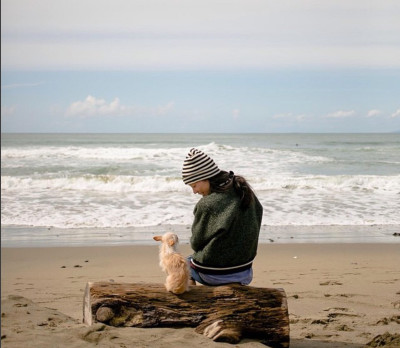 I love the food here. I go to Outerlands (the best bread and butter) if I want to celebrate something. Manna, a Korean restaurant in the Outer Sunset, a mom and pop place, is another favourite. I also like Shanghai Dumpling King and Delfina.
On a typical play day, I go outdoors. I grew up camping and hiking like a typical Canadian. I go to the North Bay for a hike and have a really good meal. I go to Ocean Beach. I prefer low-impact sports. I tried surfing in Pacifica (my husband bought me a wetsuit), but on a windy, cold day I prefer being in the forest. I have a teeny Chihuaha mutt that I take for walks.
Frances on a typical play day with Chihuahua Iggy. Image credit: Franadian on Instagram.
On what she left behind in Canada:
My parents and sister are in Vancouver. I miss my Mom's cooking. I relate my Canadian experience to my childhood. I felt free as a child. My sister and I played a lot outside. We walked to elementary school together. Here, parents are always watching. I had a great childhood. There was a lot of time and space to explore and be a kid.
Mine has been a pretty typical journey. I am not too much of a planner. For the first 4 years I still felt that Canada was my home. Now I've been here 15 years I've settled in and I can't imagine living anywhere else. The Bay Area is my home.
Frances can be seen dancing this spring in Continuum, The Countenance of Kings, Theme and Variations, and 7 Sonatas, all with the San Francisco Ballet.
Follow Frances on social media:
on Instagram @franadian | on Facebook at franceschung
This interview has been edited for length and clarity.