Monday Moose Roundup: April 11
Six of the best Canada-related links turning our heads and occupying our minds over the last week.
Read the original post on Medium.
We hosted four Canadian mayors…
…and then they wrote about it in the Globe & Mail. The mayors of Toronto, Kitchener, Waterloo and Cambridge spent the week in the Bay Area looking to bring Canadians back home, and they stopped by for a reception and a great rendition of O Canada with us. Read what John Tory and Berry Vrbanovic, mayors of Toronto and Kitchener, have to say about the delegation's mission to put Ontario on the map as an innovation destination.
Interactive Chart shows Canada's house prices rising, and rising, and rising…
The Economist looks at the change in house values in 25 countries since 1970. See how Canada compares with other hot markets, and then weep when you discover that house prices in San Francisco "have risen by an average of 13% a year over the past three years." (!)
Saskatchewan's election aftermath
Brad Wall won a clear third term as Saskatchewan's premier, winning in 51 of 61 constituencies for his Saskatchewan Party. For an interesting primer on Saskatchewan's colourful history in provincial politics (not least in terms of party colours), from being a Liberal stronghold to Tommy Douglas and its more recent conservative turn, check out this summary.
And speaking of elections…
Tom Mulcair lost his party's confidence this weekend at the NDP's leadership review in Edmonton as climate change activists faced off against an Alberta delegation that supports keeping that province working and which included NDP premier Rachel Notley. Paul Wells writes about what's next for the party in Maclean's.
The Blue Jays played their home opener weekend
And it was pretty alright. Sports Illustrated breaks down their odds for 2016.
And on the Moose channel…
Our recent Chesterfield Chat in San Francisco included a screening of Being Canadian and a tongue-in-cheek look at how to make a funny documentary without any Canadian tax dollars, whether we're getting less insecure about our nation, and the future of the Canadian film industry. This week we review our discussion with filmmakers Rob Cohen and Colin Gray.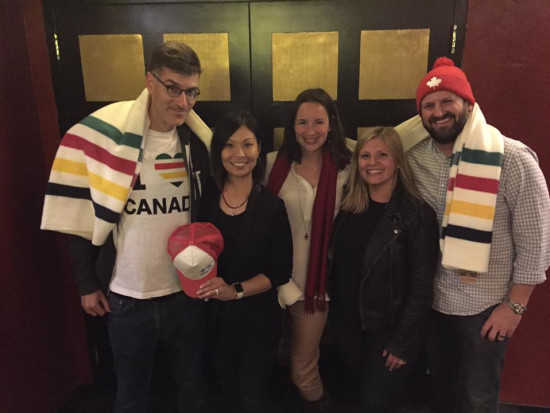 The filmmakers drop by for a showing of Being Canadian and a Q&A with our Chesterfield Chats team.